Fram SureDRAIN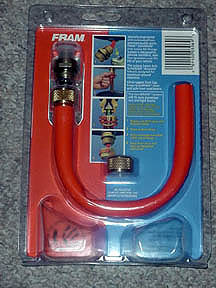 By: George "Kickstand" Pandoff

---
We have all seen the advertisements for the Fram SureDRAIN. Like myself, you probably thought it was a good idea. If you have a lifted 4WD you probably miss the drain pan more than most so it could be a worthwhile investment.
Installing the Fram SureDRAIN

---
If your not mechanically inclined this is the modification for you. Simply remove the old oil drain plug and install the new Fram SureDRAIN plug. Lastly, if not already on the new drain pan bolt, screw the dust cap onto the new pan bolt.

Here is the hardest part, put the included orange hose and drain pan bolt fitting in a safe place. Not the safe place we have all used only to forget where that safe place was. Without these two parts the whole Fram SureDRAIN is kind of useless.

Review

---
This modification really wasn't worth it to me. As soon as I can find my old oil pan drain bolt, sitting in that "safe place", I will put it back.

The dust cap is first removed from the Fram SureDRAIN. You screw the adapter along with the orange hose onto the Fram SureDRAIN pan bolt. While putting it on the orange hose is flipping around and slowly working itself off of the adapter.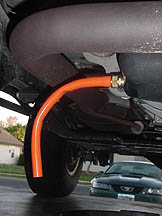 With the adapter all the way on the oil will start to flow slowly. With other things to do I continued working on the garage returning to my Jeep after about 10 minutes. Did I mention the oil was slowly coming out? I did not actually time how long the draining took, but it was more than 10 minutes.
When I change my oil I pull the drain bolt, remove the filter, put the new filter on, and the oil draining is done. Not this time. I really don't think there is much you could do to speed up the drainig.
The product performs as stated so I can't knock it there. As for how usefull...
I give this modification 1 out of 4 tires.
Costs

---
$15 from Wal-Mart.